Our Plumbing Services
Looking for a high-quality, reliable plumber for kitchen or bathroom remodeling in Fayetteville, AR? We have you covered at Hansen Plumbing Pro. Our Master Plumbers are fully licensed and certified, and are able to take on just about any job you have to offer. For new installations, we typically use high-grade products from American Standard, Mansfield and Kohler, but we are able to make repairs or perform maintenance on products from all brands.
Here are a few of the services we provide to our customers: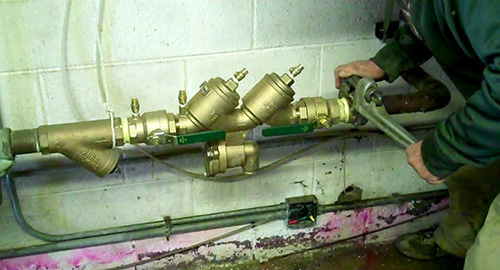 Hot water heater repair and replacement: Having problems with your hot water heater? Our plumbers are happy to pay you a visit, diagnose the problem and determine the best course of action. We will either make the appropriate repairs or install a brand new water heater in your home.
Shower repair and replacement: Old showers can have problems with leaking, mold growth or lack of flow control. We address the problem in your shower to make the necessary repairs, or install an entirely new fixture.
Bathtub removal and replacement: Need an updated bathtub? Hansen Plumbing Pro has you covered with removal and replacement services.
Garbage disposal replacement: We provide expert assistance to remove old, malfunctioning garbage disposals and replace them with new, reliable fixtures.
Washer and dryer plumbing: Make sure your washer and dryer run smoothly with our plumbing services for your laundry room!
Running or leaky toilet repair: Toilet leaks can quickly cause moisture problems. Our team is happy to fix your toilet when it leaks or is constantly running.
Water and yard line repair and replacement: Plumbing lines running out from your house can become worn or corroded over time. We are happy to make these replacements and repairs.
Sewer and gas line repair and replacement: If you have problems with sewer or gas lines running from your home, our plumbing experts will resolve them for you.
Underground Utilities: Specialized in laying utility lines for water, sewer, and gas. We also offer repairs and remodels.
To learn more about the services we provide, contact our experts in plumbing and kitchen remodeling in Fayetteville, AR at 479-236-1861.